Former Scottish Labour leader Kezia Dugdale: "I had to tell older men 'no'"
Kezia Dugdale, who powered up the political ranks to become leader of the Scottish Labour Party, tells us about coming out, stepping down and battling Brexit.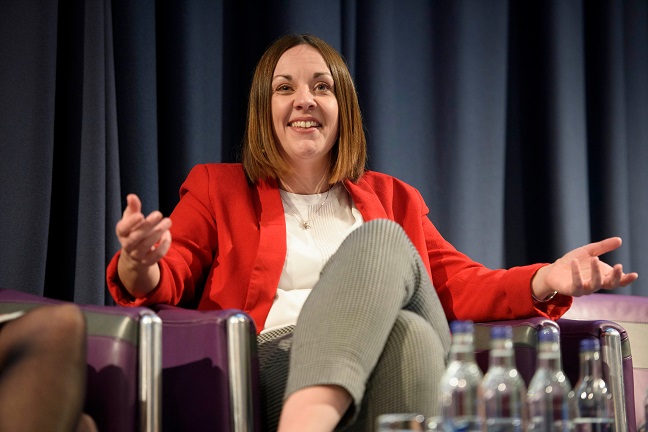 On her childhood:
My parents were my most influential role models. They were both teachers. My mum was constantly getting promoted and went on to revolutionise school meals in Scotland, set up school boards, and help to design and build new school buildings. My dad taught at the same community school for nearly 40 years; from the day the school opened in the late 1970s to the day he retired. So I grew up understanding the importance of education and how it can liberate people from pre-determined paths. I had a happy childhood. My parents split up when I was 15 – and we were all even happier after that.
On her early ambitions:
I went to secondary school during the 90s and wanted to be Ally McBeal; my dream was to become a lawyer and then drink wine every night in a piano bar. I studied law at Aberdeen University but realised within the first few weeks that I hated it. In order to change subjects, I'd have to wait until the end of the first year, then start all over again – and I couldn't afford the extra fees. So I just stuck at it. I felt isolated and lonely; I was surrounded by people who were predominantly from private schools in Edinburgh and Glasgow and had family connections in law. I didn't belong.
On going into politics:
I wasn't political growing up and I didn't vote until I was 23. After I graduated, I got a job at Edinburgh University as a welfare advisor, providing financial advice and support for vulnerable students. I really enjoyed the one-to-one work but I was trying to fix a broken system; I worked out pretty quickly that if I was going to make any real material change, I needed to change the system. That's when I got into politics and joined the Labour Party in 2003, back when Tony Blair was Prime Minister, he'd just introduced the national minimum wage and the party was successful and popular. I became an MSP when I was 29.