Forward guidance - going backwards?
The minutes of November's Monetary Policy Committee meeting suggest the group may tweak its forward guidance.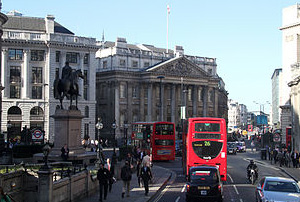 Now obviously, the whole of the UK is dancing in the streets at the prospect of a speedy economic recovery – but it turns out some reckon there might be such a thing as 'too speedy'. The minutes of November's Monetary Policy Committee meeting, published by the Bank of England this morning, suggest that the esteemed members of the group – which sets the Bank of England's interest rate – are beginning to get a bit nervy…

This all comes down to Bank of England governor Mark Carney's flagship forward guidance policy, announced with much fanfare back in August, which said interest rates wouldn't go up until unemployment drops below 7%. The idea is that rather than surprise businesses and borrowers with a sudden rise in interest rates, pegging it against unemployment will give people a bit of advance warning.

Trouble is, unemployment is dropping steadily: in the three months to September, it fell to 7.6%, edging closer to Carney's threshold. The Committee clearly thinks that's going to worry borrowers: the minutes published this morning noted that 'the projections for growth and inflation under constant Bank Rate underlined that there could not be a case for raising [the] bank rate immediately when the 7% unemployment threshold was reached'. In other words: the committee is considering tweaking its forward guidance.

Clearly, this is going to encourage borrowers (although it does support MT's view that after 54 months of 0.5%, it should be renamed the 'boring' rate). But it also undermines the thinking behind forward guidance in the first place: if the MPC is liable to suddenly tweak its guidance, how are businesses supposed to plan ahead?

The MPC, though, reckons there are 'uncertainties over the durability of the recovery and the extent to which supply growth [will] keep pace with demand'. And the chances are that until it can be sure there's going to be a full recovery, it's going to be unwilling to alter the interest rate.

Then again, with unemployment falling, manufacturing increasing, an IPO boom and both the IMF and the OECD expecting 1.4% growth this year, we're not sure what more proof the MPC wants….