Fox's $71bn Time Warner bid scuppered by Murdoch's dynastic plans
Time Warner wasn't willing to give up control to the media mogul and his sons.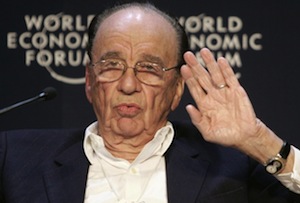 In a dramatic twist worthy of internecine fantasy drama Game of Thrones, Rupert Murdoch has pulled out of his multibillion dollar bid to buy Time Warner. It seems the 83-year-old media mogul's dynastic leanings have thwarted his long-cherished ambitions to create an entertainment behemoth, at least for now.

Murdoch, chairman and chief exec of his media holding company 21st Century Fox, said Time Warner's board 'refused to engage with us to explore an offer that was highly compelling'.

'Additionally, the reaction in our share price since our proposal was made undervalues our stock and makes the transaction unattractive to Fox shareholders,' he added. You don't say - Fox's shares had fallen 11% since the deal was first put on the table in early June, although it wasn't made public until mid-July (meanwhile, shares in Time Warner, which owns Game of Thrones maker HBO had soared 25% to $85.19).

That meant the value of Fox's original part-stock, part-cash offer of $85 (£50) per share had shrunk from $80bn to $71bn. Not ideal, given Time Warner's directors had decided they wouldn't come to the table for less than $100 per share, according to anonymous sources cited by Bloomberg.

The share portion of Fox's offer was also a crucial sticking point: they were non-voting, meaning Murdoch and his sons, non-executive co-chairman Lachlan and co-chief operating officer James, would have retained control of the mega-company.

The mogul was never going to give up his family's dominance, and for that reason isn't likely to come back to the table, but the Time Warner board couldn't justify being reduced to a non-entity. As the Telegraph's Jeremy Warner put it, 'This is at root what made a deal with Time Warner always a doomed endeavour.'

The deal collapsing was part of what the FT called 'Wall Street's dark day for M&A', as US mobile operator Sprint, owned by Japanese billionaire Masayoshi Son, also walked away from a reported $30bn informal bid for T-Mobile US. And Time Warner's investors weren't too pleased either (although there was no full-on shareholder revolt), sending shares down 11% in after-hours trading.

Fox's shares on the other hand jumped more than 8%, as it announced a $6bn share buyback and the possibility of Murdoch overpaying to create an unwieldy disaster a la Aol-Time Warner receded. It raked in £5.35bn for selling its stakes in Sky Deutschland and Sky Italia to BSky B (still 39% owned by, wait for it, Fox), so all bets are off as to what Murdoch will do with the remaining $3bn or so from that deal.

The content-providing companies are now on their own, though, when it comes to negotiating with newly consolidated US cable TV providers and internet giants like Apple and Google. May the odds be ever in their favour...