Fox's biscuits maker dragged into supply chain scandal
2 Sisters, the food giant behind Goodfella's and Fox's, asked suppliers for a whopping 120-day payment window.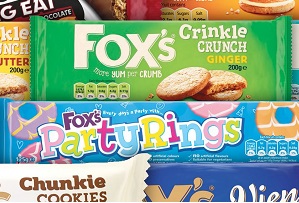 Another day, another food producer dragged into the row over supply chain ethics. 2 Sisters, which makes Goodfella's pizzas and Fox's biscuits, was accused of demanding payment terms which were 'beyond unreasonable' by a supplier who spoke to Newsnight.

A document seen by the BBC programme showed the firm asked suppliers for a 3% discount for paying them within 90 days, and said if they rejected this the period could be extended to 120 days. EU rules stipulate that payment periods should be longer than 60 days unless specifically agreed by the supplier, but this has proven ineffective in keeping waiting times down, given the lack of bargaining power small commpanies have with their big customers.

Simon Fenton, a 2 Sisters supplier whose company makes weights, said he had rejected the terms, which he said were unlike anything he'd ever seen from other customers. He told Newsnight, 'We obviously negotiate terms and conditions with everyone we deal with, but the terms and conditions and clauses laid out in the 2 Sisters one were beyond unreasonable.'

2 Sisters has 36 manufacturing sites in the UK and produces around a third of all poultry products consumed in Britain. It said its demands were within the rules and were only intended as a starting point for negotiation with suppliers, and that it typically pays up within 49 days.

'Ultimately, the supplier can choose not to trade on any terms it feels is unsuitable, and we abide by standard business-to-business payment protocols where payment can exceed 60 calendar days as long as this is expressly agreed in the contract,' the company said in a statement - all well and good but still not exactly fair. As business minister Matthew Hancock remarked on Newsnight, the terms don't seem like a great starting point for a negotiation.

Prompt payment, and poor treatment of suppliers in general, has long been a cause of concern for small businesses, and has drawn national headlines of late thanks to Tesco's accounting scandal, where it shifted supplier payments and costs across financial periods to smooth results. Two weeks ago Premier Foods, which makes Mr Kipling pies, was criticised for demanding payments from suppliers in order to remain on their books.

A survey of Federation of Small Businesses members found that one in five had experienced 'supply chain bullying' including late payments, asking for retrospective discounts and 'pay to stay' fees. MT certainly anticipates a flood of similar stories heading our way in the near future.
The Government has been making a lot of noise about the problem and small business groups will be hoping that increasing exposure of supplier treatment will either lead to more legislation or large companies changing their ways. But with past regulation shown to have been ineffective and supermarkets digging in their heels for a price war it remains to be seen whether anything will actually change.