Fracking hell: BHP Billiton takes $7bn hit
The commodities giant takes a massive impairment on its fracking assets, but refuses to cut its dividend.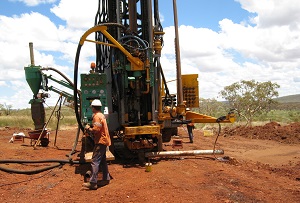 It's not so many years that investing a few billion in the swanky new technology of fracking must have seemed like a great idea. Sure, blowing a high-pressure cocktail of water, sand and chemicals at an awkward angle deep into barely accessible, dense subterranean rock formations isn't exactly a cheap way of getting oil, but at over $100 (£69) a barrel who cares? Now that crude's dipping below $30, presumably BHP Billiton does.
The commodities giant just announced a $7.2bn pre-tax impairment on the substantial portfolio of onshore American shale oil rigs it developed from 2011 onwards. These are now valued at approximately $16bn. It follows the company having to revise its price assumptions for oil and gas downwards again, as the price war between Saudi-led OPEC and frackers like BHP rages on.
The sheikhs' strategy of pumping at full pace to depress the price and drive the frackers out of the market appears to be paying off – even if it means the Saudi royals may have to sell off a chunk of Aramco to pay for it. BHP has already reduced the number of its fracking rigs in operation from 26 a year ago to seven today. That number will have fallen to five within the next few months.