Fraudster Madoff with RBS money too
RBS has become the latest to admit to big losses after the $50bn collapse of Bernard Madoff's Ponzi scheme...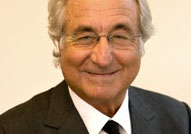 The newly-nationalised RBS confessed this morning that it had a £400m exposure to the funds managed by Bernard Madoff, the Wall Street trader who was arrested last week when it emerged his $17bn hedge fund was actually a giant pyramid scheme to defraud investors. Madoff has apparently managed to rack up losses of $50bn in recent years, which is going to leave some of the world's biggest financial institutions substantially out of pocket – HSBC, BNP Paribas, Abbey owner Santander and hedge fund manager Man Group also had big commitments to the alleged fraudster's funds.
In a statement, RBS said its £400m of exposure was via 'trading and collateralised lending to funds of hedge funds' invested in Madoff's business – not exactly ideal when you've just been forced to tap your own Government for £20bn in emergency funding. Man Group also said today that it had $360m of exposure, while BNP Paribas is in hock to the tune of €350m, HSBC has exposure of $1bn, and Spanish banking giant Santander stands to lose a whopping €2.3bn. City superwoman Nicola Horlick's fund-of-funds could see 10% of its assets go up in smoke, while the Times reports that Vincent Tchenguiz's rotten year is about to get even worse with a £40m loss. Madoff clearly had some great patter…
It's an extraordinary story: Madoff, a former chairman of Nasdaq, has been one of the best-respected stock pickers on Wall Street for years, providing investors with market-beating returns thanks (supposedly) to well-timed bets on US equities. However, it turns out he was in fact perpetrating one of the oldest scams in the book: a pyramid scheme in which earlier investors were paid with new investors' money. As a result, he's apparently managed to mislay an extraordinary $50bn of his investors' money – quite a feat given that he theoretically had just $17bn under management…