Freelancers: skint and lonely, yes, but happy?
Britain's 1.4m freelancers are more likely than most to be happy - unless they're camping outside offices in winter to chase cheques...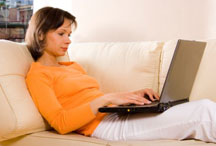 According to a poll commissioned by the Professional Contractors Group, almost three quarters of freelancers have made the deliberate decision to work outside the bounds of the traditional nine-to-five day, and that decision has made them happier than the average worker.
The group asked 1,600 people to score how happy they are generally on a scale from 1 to 5. Freelancers scored 3.79 for general happiness, while those who are too weak to break the shackles put on them by the Man (our words) scored 3.6.
The findings suggest that freelancing isn't a way of working that's being forced on people, i.e those having to find some alternative form of work thanks to the state of the economy. Indeed, the poll found that 73% of the country's 1.4m freelancers had chosen to do so as a long-term career option.