French business lambasts Hollande's 'disastrous economic mistake'
France's equivalent of the CBI has warned that France is facing a 'hurricane warning' because of president Hollande's tax-raising policies.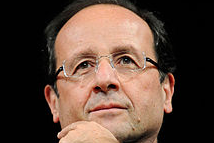 'The situation is very serious. Some business leaders are in a state of quasi-panic.' That's according to Laurence Parisot, head of MEDEF, which is the France's equivalent to the UK's Confederation of British Industry.
Her comments hit out at Francois Hollande's policy of bringing corporation tax in line with personal income tax. She added: 'The pace of bankruptcies has accelerated over the summer. Large foreign investors are shunning France altogether. It's becoming really dramatic.'
Article 6 of Hollande's new tax law raises the top rate of capital gains tax from 34.5% to 62.2%, which is almost three times more than Spain, and more than twice as much as Germany and Britain.