How to make a fresh start
The balmy days of summer are over and it's back to the same-old, same-old. Or is it? Perhaps now's the time to scan new horizons and make a fresh start in your working life. Here's a crash course.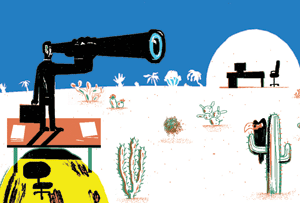 Is this just fantasy? For many, making a significant career change never gets further than thinking about it, says John Lees, author of How to Get a Job You'll Love. 'Be honest with yourself, are you really going to do something about it?' he asks.
Same job, new rules? Dissatisfaction may be down to one or two issues and, realistically, your best option might be to renegotiate the job you already have, says Corinne Mills, managing director of Personal Career Management. 'A client of mine thought she didn't want to be a lawyer any more, but it was mainly because she didn't get out enough. When she got involved in developing relationships for the practice, she was much happier.'
Get a pen and paper. Write down on one side what you want more of; on the other what you want less of. And don't forget what you want to stay the same. 'This will help you focus on what you're really looking for,' says Mills. And Lees adds, work out the deal you're looking for.