Friday treat: classic business clips
Lessons in grace under pressure in this week's hotly anticipated educational round-up. We've got Alan Partridge's reaction to losing his BBC contract; Robert Duvall showing how to keep your head when fire rages all around you; and the Office presenting two contrasting ways of presenting yourself when faced with a new team.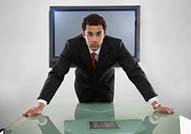 Good leaders react well to coming under fire, and they don't come any cooler than Robert Duvall's Colonel Kilgore in Apocalypse Now. Talk about keeping your head while all around you are losing theirs. That said, we cannot advocate being a complete lunatic when it comes to the corporate battlefield.

From the insanity of war to the rapidly vanishing sanity of Alan Partridge. The beleaguered chat show host faces his own bombshell here – getting dropped from the BBC. Controlling his emotions proves difficult to say the least.
And finally, the importance of first impressions can create extra pressure, and nowhere more so than when introducing yourself to a new team. The lesson from the Office: keep it simple and play it straight. Someone should have told David Brent...