Friday treat: MT's business classics
It's Friday once again, so you know what that means – time to beef up your business knowledge with some choice selections from our educational archive. This week David Brent makes his first appearance in our run-down, and we have an economics report from the Day Today, as well as a timeless speech from Gordon Gekko.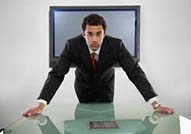 We've made you wait, but here's the first of what may turn out to be many clips from The Office. David Brent makes his first ever appearance on the show, and it's an object lesson in irresponsible recruitment: 'Has he passed his forklift driver's test? He gives the tests…'
More from the Day Today. This time the hapless Peter O'Hanrahanrahan reporting live from Detroit on mass redundancies at a General Motors plant. How exactly can the plant function on minus 10,000 workers?
And finally, in these days of CSR and corporate governance, it can't harm to be reminded of a time when it was okay to be a little more ruthless. 'Greed is good', as Gordon Gekko says as he shows how to shine at a shareholder meeting.