Friday treat: MT's business classics
This week's YouTube round-up - which we know has become one of the most hotly anticipated media events of Friday lunchtimes - brings yet more practical advice for the eager business brain. Learn how not to issue a public apology, from Alan Partridge; how to brainstorm, courtesy of Saturday Night Live; and what happens when corporate videos go 'hip'.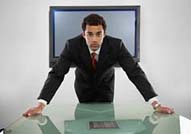 When a public figure puts their foot in it, a swift public apology is the best way to clear the air and steady the old PR machine. Someone should have told Alan Partridge, who here attempts to placate the farming industry having 'trod in a rather large farmer's pat'.
If profits at your company aren't exactly soaring, it's time to call the sharpest minds of your operation to the boardroom and get the ideas flowing. Beware of too many cooks, however, warns Saturday Night Live.
Market research is hardly the most happening thing on the planet, so a corporate video is bound to be a dry affair. Unless of course you make it into a pop video. Whereupon it suddenly becomes much more amusing, only for all the wrong reasons. Ask Synovate.