Friday treat: MT's business classics
In today's hotly-anticipated YouTube round-up, we look at the dangers your organisation can face when office politics gets out of hand. Watch Patrick Bateman demonstrate a serious case of business card envy in American Psycho; see what can happen when you don't pick up your phone; and enjoy Small Carrot's argument for sharing stationery.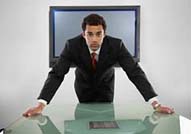 Many businesspeople feel you can tell a great deal about a person's character and company from the design of their business card. In American Psycho, Christian Bale discovers his new batch of cards don't quite measure up to those of its rivals – though we hope that you would deal with this disappointment in a slightly less murderous way.
Now that people rely so much on their answering machine to screen calls, the ever-ringing telephone is undeniably a curse of the modern office. But the din can really drive some employees to despair, as this clip shows.
There's no 'I' in team, as they say. Fostering a healthy team spirit in your workplace is widely considered to be good for business, as is the efficient allocation of resources. Otherwise you might end up with a situation like this Small Carrot animation, where two co-workers are both very keen to get their hands on the stapler.