Friday treat: MT's business classics
Right, quieten down at the back, it's time to learn a thing or two from our round-up of educational business video clips. This week sketch team Big Train shows us how to deal out the discipline, we see what happens when an interviewer gets tough on a charity organiser, and Michael Douglas demonstrates how not to deal with stress. Enjoy.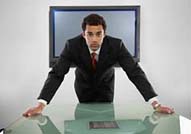 Every office has its mischievous imps, always ready with a prank or a wisecrack, and this is fine to a degree. But when that trickster is Beelzebub himself and he's leaving nasty surprises in the boss's sandwich, even the most understanding of leaders have to get tough. As Jesus shows in this clip from Big Train.
The Day Today's Chris Morris is well known for giving his interviewees the Paxman treatment. And while that take-no-prisoners approach is most effective when dealing with wily politicians, somehow it's far funnier when the poor victim is only on the telly to publicise her charity jam festival.
The stress of commuting can of course be tough, and sometimes things can reach breaking point over an issue as trifling as getting ripped off for a can of Coke. But despite your initial instincts, having a rest, taking a deep breath and thinking happy thoughts is a far healthier solution than unleashing a baseball bat on a convenience store. Someone should have told Michael Douglas…