Friday treat: MT's business classics
A few lessons in employee relations in this week's educational YouTube round-up. We've got team bonding the Goodfellas way, a controversial appointment in another clip from Big Train, and the Fast Show's Colin Hunt showing the dangers of aping around when a colleague is in a rush.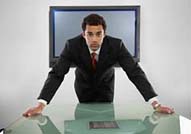 The Fast Show's Colin Hunt was postmodernism at its most insufferable. As the programme's caricature of the office joker, he annoyed his colleagues with grating imitations of the previous night's TV – leading to thousands of office jokers around the country annoying their colleagues with even dodgier impressions of him. A circle of pain. Here he ditches the impressions, but proves that joking around doesn't necessarily sit well with colleagues.
Humour, of course, does have its place. When your line of work is particularly stressful, for example, going out for a few beers with the guys and swapping stories is an essential means of letting off steam. And laughing at the boss's jokes can never do any harm either. Just make it clear you're laughing with him, not at him.
And finally, every now and again you just have to make an appointment that's not exactly popular with the team. Big Train's unfortunate Tom Henderson is one of those people. Still, it's nice to have something for the team to bond against…