Friday treat: MT's business classics
A loose health and safety theme this week in our much-loved educational YouTube round-up. We get a thorough lesson in where not to put cups, courtesy of Gareth from the Office (he's in the TA you know); a round of golf with Dinosaur Jr that your boss probably wouldn't approve of; and a Bond clip from an era when you could cut a little loose at work without a health and safety officer breathing down your neck.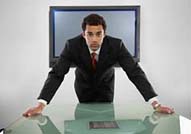 Welcome to Wernham Hogg Health & Safety training with Gareth Keenan, as the Office's socially inept buffoon announces at the start of this session. As Keenan says of his A-grade student: 'She won't be spilling any fluids or lifting things incorrect.'
An unusual detour for us here, as we join American indie band Dinosaur Jr on a round of golf through the streets of Manhattan – a great idea for that client who likes to unwind with an urban walk and a violent swing of the 5 wood.
And finally, Sean Connery played Bond back in the golden age before the films were ruined by the PC brigade. Try and go toe-to-toe with a henchman and his lethal top hat in your average lair these days and it'd all be stopped straight away by some do-goody health and safety officer. You could never leave a loose cable hanging like that for starters.