Friday treat: MT's business classics
Yes, it's time to finish your week on a flourish thanks to our educational YouTube round-up, bringing you the best business clips from around the world. This week, we're heading across the Atlantic for some lessons on creativity: Rattlebrain shows us how to run the perfect brainstorming session; Random Pictures explains how a highly skilled trainer can bring the best out of your employees, and Lollilove star James Gunn demonstrates the dangers of leaving your creative types too much room for manoeuvre...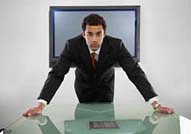 In our first clip, from Rattlebrain Entertainment, the group is trying to live up to the basic principle of brainstorming – that no idea is a bad idea. Until Todd opens his mouth...
Random Pictures offers us a classic take on how head office can use corporate training to inspire its employees to new creative heights. Be sure to take notes.
And finally, in James Gunn's mockumentary Lollilove, a creative type pitches some of his well-meaning but highly offensive ideas to a potential client – while his colleague looks on in horror, wishing she'd reined him in during the 'ideation' process...