Friday treat: MT's business classics
We've chosen a people management theme in this week's round-up of educational video clips. Big Train show us how creating a diversion can be handy when dealing with tricky requests; David Brent demonstrates the importance of sensitivity and understanding when giving an appraisal; and finally some choice lessons in man-management for Steve McClaren's England successor.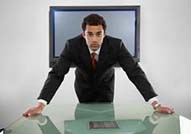 No boss enjoys delivering bad news, so it's handy to pick up a few hints how to do it. Honesty is of course the best policy. But if that's too hard you can always try the distraction technique, like Big Train's boss.
When it comes to showing how not to relate to your staff, it's hard to avoid the Office and the 'wisdom' of the Brentmeister General. Here Brent gives Tim an appraisal, which includes a great deal of philosophy, but very little understanding.
And at the end of a terrible week for English football, a true giant reveals his secret of inspirational management – 'motivation, motivation, motivation – the three Ms'. Yes, it's Alan Latchley, Peter Cook's classic football manager from Clive Anderson Talks Back.