FSA told Co-op: 'Let Lloyds know of your woes'
It turns out that as far back as 2011 the City regulator told the Co-op Bank to let Lloyds know about its financial concerns - before a deal to acquire 632 branches fell through...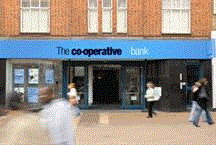 Co-op bosses now have some serious questions to answer. Apparently a regulator for the Financial Services Authority (Andrew Bailey) became aware of the Co-op's financial difficulties before everyone else, and informed them it was their duty to raise the issue with Lloyds. Bailey popped up with this intel in a hearing before the Treasury Select Committee yesterday afternoon.
He said: 'Towards the end of 2011 we made it clear to [the Co-op] that... it was not clear to us that Co-op Banking Group had the ability to transform itself successfully and sustainably into an organisation on the scale that would result from acquiring the Verde [the bank branches] assets. I was very insistent that Lloyds were told... that there was a reasonable probability that [the deal] was not going to happen.'
In case you haven't been following the story, Lloyds is required to offload 632 bank branches under EU rules governing how much financial assistance financial institutions can receive from the state. Co-op appeared as a suitor, and until April this year it looked like the deal would go ahead. But at that point, Co-op pulled out of the deal citing economic climate and burdensome regulation. In point of fact, it was a £1.5bn shortfall.