FSA's Turner promises to get tough on banks
The City gets nervous, as FSA boss Lord Turner calls for tighter regulation and lending restrictions...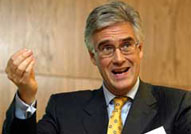 FSA chairman Lord Turner has delivered his long-awaited review into the financial crisis – and he's demanding a 'profound' change to the UK's banking culture. In practice, this will amount to a crackdown on over-exuberant behaviour – he wants banks to be prevented from excessive lending when times are good, instead being forced to build up cash reserves that can be used as a cushion to absorb losses when things get bad. He's also demanding new powers of scrutiny for his beefed-up regulator (whose reputation has taken a hammering in the last year), plus more curbs on hedge funds and bonuses. The only worry is: might all this stuff do as much harm as good?
Lord Turner, who's clearly the Government's go-to guy for blue-sky thinking (he's already written reports on pensions, climate change, and low pay) was always going to give the sector a hammering; although he's not a politician, he knows which way the wind is blowing, and he'll be keen to reposition the FSA as a force to be reckoned with (a tough ask in itself). And judging by his comments since taking over the FSA gig last year, his analysis of what went wrong in the banking sector is more incisive than most – although you might well argue that his conclusions today (banks should stop lending money they don't have, and should start putting aside a rainy-day fund) are not particularly profound...
Still, Turner is basically admitting that the light-touch, case-by-case approach favoured by the FSA thus far has proved unfit for purpose; so if nothing else, he's clearly determined that the regulator raises its game substantially. But although it's beefing up numbers, some people are sceptical that it will have enough knowledge and expertise to spot the dangers in time, even if it gets the extra powers of intervention that Turner wants. (Ken Clarke told us recently that it was the regulators that were at fault, not the regulation itself - which explains why the Tories are thinking about getting rid of the FSA).