FSB warns of bankruptcy threat
The small business group says 1.5m of its members will go bust without drastic government action...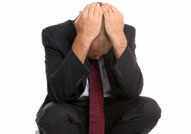 In a recent survey of its members, The Federation of Small Businesses discovered that one-third of respondents said they would have to close down unless the current financial climate improves rapidly. No prizes for guessing why: more than half said trading had deteriorated in the last two months, with nearly 40% saying they'd become less optimistic about the future of their company during this period. And there's a lot at stake for these owner/ managers: according to the FSB, just under 50% of its members could lose everything they own, including their house, if their business goes under…
The slowdown is already having an impact on the employees of these companies, according to the survey: a third of respondents were thinking about reducing staff hours, while 14% have done so already. Worse still, 32% were considering cutting staff altogether, while a fifth have already done the deed. And since 70% of companies have already introduced (or are planning to introduce) a hiring freeze, the chances of them finding another job in a similar organisation are getting slimmer by the day.
The first step in resolving this crisis, argued the FSB, was for the Bank of England to pull its finger out and cut interest rates drastically. 'This should hopefully encourage banks to lend and secure the future of millions of businesses,' said chairman John Wright. 'We don't want to head the way of the early 90s when 1,000 small businesses a week were collapsing.' We couldn't agree more - so the small business group was no doubt as delighted as we were by Thursday's radical 1.5% cut.