FTSE 100 boards are finally 25% women
Hitting Lord Davies' target is good, but British business can and should do better.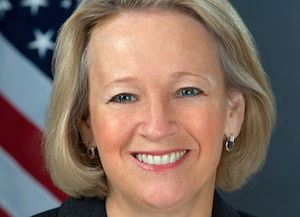 FTSE 100 boards up and down the country may well be giving themselves a celebratory back pat right now: they are finally more than one quarter female. But any huzzahs ought to be short-lived – this is just the start, and a small one at that, in increasing diversity in British business.
Then-business secretary Vince Cable set the 25% voluntary target in 2011 in 2011, after a report by Lord Mervyn Davies. When Davies gave his most recent update in March the figure was 23.5%.

The quarter mark was passed (the figure is now 25.4%) following a spate of recent appointments, according to headhunter Sapphire Partners. New directors include Irene Lee and Pauline van der Meer Mohr at HSBC, Diane Schueneman at Barclays, Belen Romana Garcia at Aviva and Mary Schapiro at the London Stock Exchange.
But they are all non-execs and the proportion of female executives remains pitifully low: 9.5% (25) in the FTSE 100, 5% (27) in the FTSE 250. Although that's also a record, it's not one to be particularly proud of. And the UK's 350 largest companies, while important, particularly symbolically, are only the beginning.