FTSE 100 suffers worst ever year as shares plummet
It's official: the index of Britain's leading shares suffered the biggest one-year drop in its history in 2008...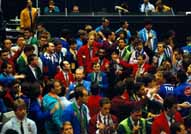 The FTSE 100 closed at 12.30pm today on 4423.34, down 31.5% for the year – the biggest annual drop since the index was launched in 1984. It actually opened the year at a healthy 6456.90 (seems a long time ago now), but as investor confidence drained away in the wake of the financial crisis, the share prices of some of the UK's biggest companies have plummeted at an alarming rate. In fact, given the precipitous falls in the financial and property sectors, and given that global equity losses totalled about $30trn this year (also a record), it's almost a wonder the situation isn't worse...
Bottom of the class in 2008 were former banking behemoths RBS and HBOS, who have both shed an eye-popping 90% of their value in just 12 months. Having started the year as the pride of the City, they end it majority-owned by the taxpayer after massive state-funded bailouts. Miners Xstrata and Kazakhmys also suffered as demand for commodities started to wane, while private-equity poster-boy 3i displayed the extent of that industry's woes by falling about 75%. At the other end of the scale, defensive sectors flourished: Randgold, British Energy and AstraZeneca were the top three performers on the index.
But it's been a funny old year for the stock markets, which have been jumping up and down all over the place as nervous investors reacted to every piece of news. Given that 2008 will go down as the FTSE 100's worst ever year, it will come as no surprise to learn that it included five of the market's biggest ever one-day falls, notably a near-9% drop in October as the crisis heightened. However, strangely enough, it also included four of the biggest one-day gains in the index's history, most recently the 10% rally on the day of the pre-Budget report in November (despite the depressingly awful state of the public finances). So volatility has been just about the only constant.