FTSE bosses get double digit pay rise
Amid calls to curb excessive City bonuses, it seems that Britain's top bosses are still raking it in...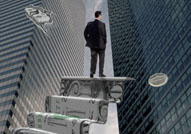 On Monday the FSA outlined new voluntary guidelines for City pay, aimed at encouraging employers to make greater use of longer-term incentives – like paying bonuses in shares instead of cash (which will make it harder to buy that new Ferrari). With many people believing bonus structures were a big factor behind the current financial crisis, there's clearly now a widespread consensus that the excesses of the banking world need to be curbed.
But what about the rest of UK plc? According to the latest pay survey by Income Data Services, FTSE 100 CEOs earned an average of about £3.5m each last year, an extremely healthy 11.5% increase on the previous year. And less than a quarter of this (£768k) came in salary – the other £2.8m came from long-term incentive payments and a rise in the value of their options. Even those in the next tier down, the FTSE mid-250, notched up an impressive 10% rise.
Strangely enough, despite the rotten year the market has had – the FTSE is currently down about by about a third on last year, even after Monday's rally – incentive payments were up across the board. Long-term incentives (which track performance over a specified time) breached the £1m mark for the first time, while share options also increased in value - by nearly £900,000 for FTSE 100 directors. Unless the options were granted at ridiculously low levels, this seems a bit hard to fathom..