FTSE rallies - and HSBC ramps up lending
Two bits of good news this morning, as shares rise and HSBC launches a big push for new business.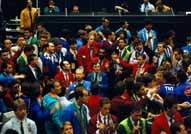 The FTSE 100 was up nearly 5% this morning, as all the big European markets enjoyed a surge following a big overnight bounce in Asian markets. It's been a rotten few months to be a stock market investor, but the spending plans outlined by President-elect Barack Obama over the weekend (in which he promised to boost public spending and bail out the Big Three carmakers) seem to have convinced a few people that there could finally be some light at the end of the tunnel. Even if all the statistics are still suggesting otherwise…
In some ways, it's not entirely clear why the markets have rallied so strongly today (unless investors are starting to think that the recent sell-off has been over-done). All the figures on the economy still look pretty grim – unemployment, retail spending, service output and so on – so it seems a bit unwise to be banking on Super Barack to solve the problem single-handedly. And any optimism in the UK might well be scuppered by the latest figures from the British Retail Consortium, which are out tomorrow: they're widely expected to show an even bigger decline than October's 0.1% year-on-year drop.
On the other hand, online shopping looks a bit more positive: according to trade body IMRG, this will be the busiest internet shopping day of the year, with orders expected to peak somewhere between 1pm and 2pm as we splash out some £28m during our lunch breaks. Research by GfK NOP (on behalf of Ivobank) found that 5m of us will be doing our Christmas shopping from our desks this year, which means it's a good time to be a web-only retailer: Play.com, the online DVD and music specialist, is expecting sales to be up 25% today on last year.