FTSE rallies - but are insurers next?
Markets are up this morning, but fears are growing that insurers could go the same way as the banks...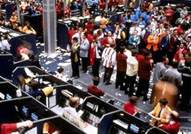 In a fitting end to what's been a topsy-turvy week for the markets, the FTSE briefly shot back above the 4,000 point mark this morning, as financial institutions and miners recovered some of their recent losses. The market plunged over 200 points yesterday, thanks partly to fresh concerns about the health of some of our big insurers – but a late rally on Wall Street yesterday (which eventually closed up 400 points) seems to have cheered everyone up again. Although not for long, we suspect...
Two of the biggest losers on the FTSE yesterday were Prudential, down a massive 20%, and Aviva, which fell over 10%. The sell-off followed a note by Goldman Sachs suggesting that the deterioration in the debt and equity markets had left the insurers in serious danger of running out of cash. Since Goldman is Prudential's own corporate broker, we imagine that didn't go down particularly well at Pru HQ. Last night the insurer was forced to deny that it was planning a rights issue to raise funds, insisting that its capital position was 'extremely strong'. Aviva has also denied the rumour – although both can still expect a discreet call from the FSA today, enquiring about their financial health.
Both stocks are back up this morning. And it's certainly true that neither is in anything like the trouble that engulfed US rival AIG before its enforced government bail-out – the Pru had £1.4bn in surplus capital back in August, and even Goldman's note admitted that it could handle write-downs of up to £850m before it would have to tap shareholders for more cash. That's a pretty decent safety net. On the other hand, if governments and regulators fulfil their promise to reduce the size and complexity of the debt markets, it's quite likely that all the big insurers (who get lots of business from insuring this debt) will be hit in the pocket.