More fuel for engine room
The Tory plan for a six-month NI cut shows how keen politicians are to back small businesses...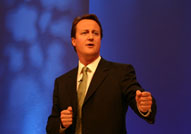 Conservative leader David Cameron's latest wizard wheeze is for a six-month 1p cut in National Insurance for businesses with four staff or fewer – which he calls 'the lifeblood of our economy'. The idea is that this temporary tax break will help small businesses through what will be an 'extraordinarily tough time', freeing up extra cash (up to £600, he claims) to pay the bills and cover interest payments. Sadly, due to the minor drawback of the Tories not being in power, this won't do anyone much good in the near term (apart from Dave, perhaps). But it does at least emphasise that sticking up for small businesses is now the height of political fashion…
Cameron has been moaning recently that the UK's enormous budget deficit – 'the biggest in the industrialised world' as he put it on the Today programme earlier – gives him virtually no scope for tax cuts, since he's unwilling to follow the Brown/ Darling route of ramping up borrowing. Hence the need for relatively small measures like this – Cameron reckons it would cost the Treasury about £225m, which can be funded out of their existing plans to simplify the tax code. And that's not all: in a bid to prevent 'good small businesses going to the wall', he's also proposed a six-month VAT holiday for SMEs, and demanded that local authorities pay their bills faster.
Naturally the Government says the Tory sums don't add up (and it's admittedly a bit unclear which taxes will pay for the cut). But Labour is just as keen to boast about its support for small business: it's already been saying that it will strong-arm its newly-nationalised banks into lending to them at 2007 levels (even though nobody seems to understand how this would work in practice). And it emerged over the weekend that it could delay the extension of flexible working rights to any parents with a child under 16, in order to help SMEs.