Fuel pushes inflation to six-month high
Inflation surged to 1.9% on higher fuel prices last month. And it'll probably keep climbing for a while yet.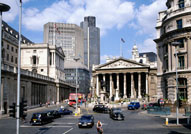 The Consumer Price Index measure of inflation jumped to a higher-than-expected 1.9% in November, the Office for National Statistics said today. Transport costs were apparently 'by far the largest upward pressure': they were up nearly 7% on last year's equivalent figure, thanks largely to the higher cost of fuel. The Retail Price Index measure (which incorporates housing costs) is also back in positive territory, rising from -0.8% to 0.3%. But although the forthcoming VAT rise is likely to see inflation keep pushing upwards in the next few months, possibly as high as 3%, the consensus seems to be that we shouldn't worry too much about soaring prices while the economy's as limp as it is currently...

Although the size of last month's hike took economists by surprise – after October's CPI figure of 1.5%, they were expecting something like 1.7% – the upward movement was entirely expected. The weakness of the pound is making imports more expensive, while the oil price has been climbing, pushing up the price we pay at the pump and increasing transport costs. And with VAT set to revert to 17.5% in the new year, driving up prices across the board, the Bank of England reckons inflation will keep rising for the next few months – possibly above the 3% level that will require a letter of explanation from Mervyn King to the Chancellor (which we imagine would read: 'Three letters Al: VAT')

But there's no need to worry about Weimar Republic-style hyperinflation just yet (although some might argue that we will if the Bank messes up its QE programme). Chances are that this rise in inflation will be strictly temporary; with the economic recovery likely to wheeze along like an asthmatic pensioner next year, we can expect to see high unemployment, tax hikes and excess capacity – all of which will combine to constrain spending and force prices down. What's more, the year-on-year change in petrol prices is unlikely to be as dramatic from next month, which will also affect the numbers.

So in other words, by the middle of next year, deflation will probably still be a bigger worry than hyperinflation...

In today's bulletin:
BA falls as turkeys vote for Christmas strike
Cadbury bid defence is a Fudge, says crotchety Kraft
Fuel pushes inflation to six-month high
Editor's blog: Painful changes at BA and Royal Mail
Is there trouble ahead for price comparison sites?