Fuld gets Congress reality check
Former Lehman boss Dick Fuld broke silence to defend his role in the bank's demise to Congress yesterday.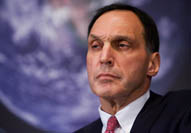 Appearing before the House Oversight and Government Reform committee, Fuld denied any responsibility for Lehman's collapse, producing an impressive list of mitigating circumstances ranging from his bete noire, short sellers, through credit agency downgrades, loss of client confidence and of course that old favourite, a hostile media. Someone should have told him to blame the weather, too – everyone else does.
At least he seems to have dropped the appalling habit of referring to himself in the third person – but that apart, signs of humility or even repentance from the ex-Master of the Universe were few and far between. He did everything he could to save the firm, he claims, and while he accepts 'responsibility for his actions' he does not accept any responsibility for Lehman's eventual fate. Eh?
That's a rather technical distinction between cause and effect, which shareholders and former employees may prefer not to recognise. If not he, then who? $300m over the last eight years (the amount he's taken home since 2000) is a lot to pay a passenger, however good his spiel. Surely one of the key clauses in any chief exec's 'psychological contract' is a degree of de facto responsibility for what happens on your watch, whatever the ultimate cause. After all, Fuld was perfectly happy to take the credit – and the vast sums of cash – when Lehman was a Wall Street star.