What is the future for Britain's steel industry?
As Caparo Industries goes into administration and Tata Steel cuts jobs at three sites, the position of the UK's industry looks increasingly precarious.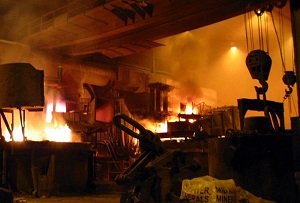 It's been a rough month for the UK steel industry. At the end of September, Thai firm SSI closed its Redcar plant. Yesterday, Swraj Paul's Caparo Industries filed for administration. And today it's the turn of Tata Steel to announce major production and job cuts at three sites. As a result, up to 5,000 UK steel workers (or one in six) have either lost or likely face losing their jobs.
The word 'crisis' gets bandied about a lot, but it seems apt. The same could be said for the phrase 'perfect storm' – over the last, turbulent year, Britain's industry has faced tumbling global steel prices, the strong pound hitting exports and the oil and gas industry (a major consumer of steel) turning off the taps on investment.
The crucial factor is clearly the drop in the steel price – a tonne of steel billet was worth $480 in January, falling to $100 for most of the summer, before rising to $170 today – as a result of the hard landing in China's heavy industrial sector (the jury's still out on exactly how bad the slowdown in the wider economy is).