Is this the future of marketing?
LAUNCHPAD: Using Seenit's superfan-sourced videos instead of making expensive adverts could save brands millions.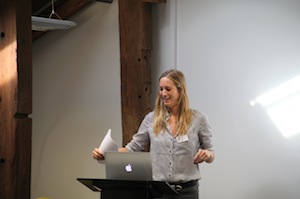 There's nothing like a room full of startups and their supporters to warm the cockles – it's hard not to be caught up in entrepreneurs' enthusiasm for their nascent ventures. So it was a veritable love-in yesterday at the Collider Demo Day, where nine marketing technology businesses emerged from 13 weeks of incubation to pitch their ideas (full disclosure: MT's parent company Haymarket was one of the brands mentoring the startups, alongside Unilever, Camelot and Unruly).

The audience of around 200 businesspeople and investors were able to vote on each pitch (via smartphones and tablets, natch) and Seenit's Emily Forbes, the last to make her case and the only woman, came out on top.

Seenit allows companies to source and curate footage sent in from fans on social media, on a pay as you go or subscription basis. They have control over what sees the light of day, unlike on Youtube, Vine, Instagram et al where negative or badly made videos stay up for all to see. The idea, Forbes said, is to save brands the time, money and bother of churning out adverts themselves.

One potential pitfall is having to sift through reams of unusable content, although Seenit's co-founder Max Werner said the ability for brands to search for reliable fans and chat to them (telling them if they have their finger over the microphone, for example), should help. Seenit also has a network of multilingual editors if companies want to outsource pulling the clips together.

The startup, which Forbes said had come out of pilot mode at the Demo Day, has six clients and is in talks with more than 20 others. The team doubled from the two co-founders during the accelerator programme and they hope to have eight staff by the end of the year.

Other startups that caught MT's beady eye at the event were Love the Look, which uses artificial intelligence and other technology to find similar products to advertise to people looking at images online, and Ad Venture, which targets TV advertising (Lynx to men, Impulse to women, for example) on devices connected to the net.