G4S 'on the verge' of closing Olympic compo deal
Negotiations between the blundering security firm and UK government are drawing to a close. The question is, how much will Nick Buckles have to cough up for that Olympic-sized mistake?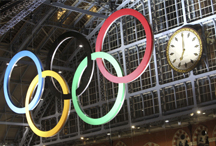 It was one of the biggest corporate cock-ups of last year: G4S, provider of outsourced security, failed to deliver around 10,400 of the security guards that it was contracted to provide for the London 2012 Games.
In order to make up G4S's manpower shortfall, government had to deploy 3,500 extra troops during the Olympics.
Over the last two months, the company has been in negotiations with government over just how much of its £284m contract fee it should be forced to pay back.
In December, the firm revealed that the debacle has so far cost it around £50m. But, according to the BBC, it could yet be forced to pay another £50m: £36m for the extra troops, and £6m for extra police officers.

Keith Vaz, chairman of the Home Affairs Select Committee, says that G4S should also be made to forgo the margin it made on the deal. 'G4S have got to pay for the mistakes they have made, all the money from the cost to police, the army and give up the £57m management fee,' he says.