G4S scoffs at £1.5bn offer for cash transportation business
The embattled security firm has rejected a bid for its cash solutions business from private equity firm Charterhouse Capital Partners.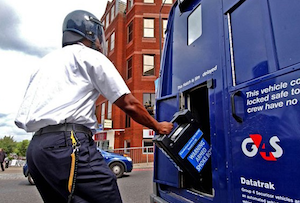 G4S has been pretty open about its desire to sell-off some of its assets to cut debt, but it has rejected a £1.5bn offer for its cash solutions unit for being 'highly opportunistic' and undervaluing the business. Read as: it's just not that desperate.

The offer came from UK-based private equity firm Charterhouse Capital Partners and follows the sale in August of G4S' Canadian cash solutions business for £67m, but the board at the security firm has deemed £1.5bn a bit too slim, considering the importance of the arm. The offer, they said, 'fundamentally undervalues the business and its prospects.'

'The board considers the group's cash solutions services to be core to G4S's operations and strategic plans,' said the company.

It's a fair statement. Cash solutions services, which involves transporting cash for banks and ATMs, accounts for 18% of G4S' turnover.

'G4S is committed to invest in its core businesses, including cash solutions, which have strong opportunities for sustainable profitable growth. The cash solutions business is integral to G4S's operations and strategic plans,' it continued.

Shares rose on hearing of G4S' rejection and are currently up 1.01% at 261p.

The company has been struggling to put the 2012 Olympic cock-up behind it. Last year it failed to provide 10,400 of the security guards it had promised for the Games, forcing the government to step in and costing it an estimated £70m. A string of new scandals have marred any recovery efforts, including an accusation of fraud over its tagging of prisoners and ongoing issues in the prisons run by the company, in both the UK and South Africa.

Long-serving chief executive Nick Buckles stepped down in May of this year and his replacement, Ashley Almanza announced in August that the company would sell assets worth around £250m and offer 140.9 million new shares – to address the firm's financial problems.

But despite the precarious financial position the company finds itself in, it won't just let a good thing go for a fraction of the value.

According to G4S, its security solutions business is number one or two in 61 out of the 66 markets it operates in. It is 'unique in its scale and diversity, with unrivalled emerging markets and strong characteristics.' Just the type of business a private equity house would love to pick up as a bargain. Almanza ain't no fool.