G4S secures £148m profit
The security firm reverses last year's losses, but are its troubles behind it?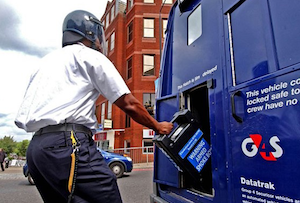 Security services G4S has had its share of woes over the last few years. A botched contract at the Olympics, a £109m fine for overselling electronic tagging and a temporary ban on tendering for government contracts all made for a pretty miserable time – and a lot of red ink in its accounts.
There are signs of hope, however. Today, the firm announced pre-tax profits of £148m, compared to a loss in 2013 of £190m. Revenues, meanwhile, were up 3.9% to £6.8bn. It might be a little premature for boss Ashley Almanza to pop the champagne cork just yet, however.
Turnover actually contracted by 1% in the UK to £1.6bn, largely as a result of losing the electronic tagging contract in March. The picture wasn't much better in the rest of Europe, where revenues fell 0.6% to £1.4bn following the Dutch Department of Justice's 'insourcing' one of its contracts. That really shouldn't be a word...