GALLERY: This is what Google's new offices will look like
At a whopping 1 million square feet, Google's new King's Cross offices will be leviathan. MT takes a look at the plans.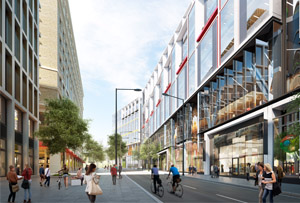 Property trade rag Property Week reported last week on plans for Google's new London HQ: the offices, part of the new King's Cross Central scheme, will be 1 million square feet, providing enough space for 4,500 workers, with another 50,000 sq ft of space for shops.
If the 330m (1,082 ft) building, currently referred to by Google insiders as 'Project Queen', was stood on its end, it would be taller than the Shard, while 40% of the 30,000 sq ft roof area will be dedicated to garden areas. And although the designers have added lifts, they've made starcases the 'main mode of transport' to 'tackle the sedentary tendencies of workers'.
Anyway, take a look. Click on the images to see their captions.