Up your game in a downturn, with YouTube
How to thrive when things take a dip, with For Your Consideration, the Onion and Alan Partridge.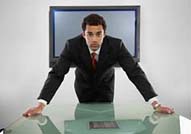 In tough times, when everyone's anxious to make sure they put every foot right, clients can get more demanding. So you may find yourself having to put up with more than you'd like. As this green room inspection from For Your Consideration demonstrates. Bite your tongue.
Make yourself invaluable. You need to get yourself known as someone who needs to be on the team. Put yourself forward for jobs, like the first man stepping forward to be China's first willing astronaut in space. As reported by the Onion.
Tread with a light step. You may be more desperate than ever for things to go your way, but it's best not to go stomping around, thinking only of yourself. Others have troubles too. Alan Partridge, attending the funeral of his former BBC boss (in a Castrol GTX bomber jacket), makes no bones about the fact that he's simply there to bend the ear of the new head.