Gas on the rise
If it wasn't bad enough that the Government wants to make it more expensive to sell our houses – Home Information Packs became compulsory today for properties of all sizes – now it's going to become more expensive to keep them too. Centrica, owner of British Gas, hinted this morning that it's going to be putting up energy bills again. Which is just what you want to hear in the middle of winter...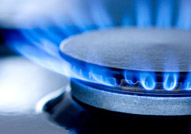 In a trading update today, Centrica said that it had been forced to pay more for gas on the wholesale markets in recent months, as oil prices have hit new highs. This has dented its margins, so although overall profit is likely to be in line with expectations, the mix has changed – meaning a higher tax bill. The end result is that consumers are likely to see price hikes in 2008.
Ironically, British Gas has been leading the way with price cuts this year. It dropped its tariffs twice, in March and April, helping to regain the customers it had lost because of previous hikes. It's now back up to 16m customers, although it's not impossible it might lose some of these again if prices do go up.
That said, its competitors will probably be forced to increase prices too – rival npower said today that customers can expect increases of 17% for gas and 13% for electricity from January 1.