Gatwick prepares for take off with new owners
What started as a bad week for BAA is looking up as Gatwick is sold to the owners of London City Airport.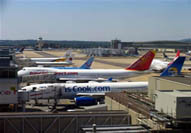 BAA has agreed to sell Gatwick, the UK's second busiest airport, to London City Airport's owners Global Infrastructure Partners (GIP) for £1.51bn – almost £300m less than the original asking price. BAA, which is owned by Spanish infrastructure group Ferrovial, will use the much-needed proceeds from the sale to pay off a portion of its debt, which currently stands at around £10bn. And with plans already underway for a new runway in its quest to boost passenger numbers, the sky could be the limit for GIP…
BAA's chief executive Colin Matthews reckons that the company can now focus on improving its flagship Heathrow operation, and its other airports. It won't want to be leaving Gatwick too much in the shade though: a chunk of the sale price is conditional on the airport's future performance. Approximately £10m is dependent on traffic performance and £45m is down to GIP's future capital structure – so basically if improved market conditions mean the buyer can make more dosh, then BAA will reap the rewards, too.