Gatwick's Stewart Wingate is confident he'll get the new London runway
THE MT INTERVIEW: Gatwick's CEO is lobbying hard for the green light to build London's new runway. Has he made locals an offer they can't refuse?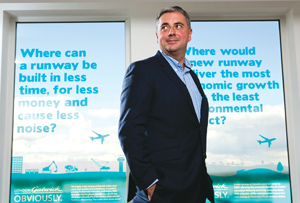 Where should London's extra runway be built? The Airports Commission isn't due to make up its mind on this most vexed of national planning issues until safely after next year's general election, but as far as Stewart Wingate is concerned, there is already only one answer: 'It's got to be Gatwick.'
Of course, as Gatwick Airport's CEO, you'd hardly expect him to back Luton, but the boss of what is already the world's busiest single-runway airport makes his £8bn case for laying another 3,300m strip of concrete across the Sussex countryside with candour and his own brand of remorseless operational logic. It helps that - foursquare and blokeish, looking like he'd rather be in jeans than suited and booted - he's a regular guy. Not a sharply dressed lobbyist trotting out a line.
Gatwick plus point one: location. 'Heathrow is in an area that is already overheated - you have aircraft flying over one of the most densely populated parts of the entire planet. Expand there and it will affect about 350,000 people. But Gatwick is in a sparsely populated area - expand here and it will only affect 30,000 people.'