Gaviscon scam claims hard to digest for Reckitt Benckiser
The OFT alleges Reckitt abused its dominant market position to flog a more expensive version of Gaviscon.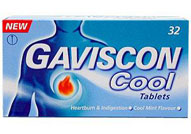 Trouble for Reckitt Benckiser: the household goods maker could be looking at a huge fine if the Office for Fair Trading succeeds in proving accusations of market abuse. The OFT claims Reckitt removed the original version of best-selling heartburn medicine Gaviscon from the NHS prescription lists when its patent protection expired, and replaced it with a slightly different 'Advance' version – thus forcing the NHS to shell out unnecessary millions on the new drug rather than cheaper generic versions. If Reckitt is found guilty, it could theoretically be fined up to 10% of its turnover – which last year was £7.75bn. That'd be hard to swallow, regardless of how much Gaviscon you have.

The story is a little complicated, because the alleged 'abuse' relates to the odd process by which the NHS prescribes drugs. Basically when doctors issue prescriptions, they search for a well-known drug – and if it's out of patent, they can then prescribe a cheaper generic version instead (assuming one is available). According to the OFT statement of objections today, when Reckitt realised that its patent on Gaviscon Original was about to run out, it rushed out a slightly amended version called Gaviscon Advance and withdrew the Original. So when doctors searched for Gaviscon, all that came up was the new, expensive, patent-protected Advance – as opposed to the Original, for which cheaper alternatives existed.

If this rings a bell, it's because it was first brought to light back in 2008 by Newsnight, based on leaked emails from an internal whistleblower. So we're not quite sure why it's taken the OFT so long to get its act together. But although it was careful to stress today that it was too early to decide whether any laws had been broken, its basic argument is pretty clear. Allowing doctors to prescribe cheaper generic drugs fosters supplier competition and saves the NHS pots of cash – so by implication, this will have cost it a lot of money.

However, Reckitt naturally begs to differ; it insists that it 'competes fairly and within the letter and spirit of the law' – and it will presumably tell the OFT as much in its response. In practice, we suspect the allegations may be devilishly hard to prove; as long as Advance actually does a better job than Original, how will the OFT show that Reckitt was wrong to replace it? And even if it is found guilty, the fine is unlikely to be anything like as big as £775m (they never are). This might explain why RB's share price hasn't moved much today.

Nonetheless, it would still be pretty bad PR. We imagine its lawyers will be bracing themselves for a few late nights even as we speak.

In today's bulletin:
Lloyds boss Eric Daniels waives £2.3m bonus - under duress
Gaviscon scam claims hard to digest for Reckitt Benckiser
UK managers: resigned to the recession?
Psychology at Work: Five ways to tackle workplace bullying
Buy farms and gold, insists Faber (aka Dr Doom)