GCC: Special report - Eastern competition
The lure of international banking business has set off a race among the GCC states for the title of regional financial capital.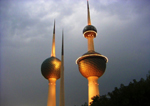 The founders of the Gulf Co-operation Council (GCC) declared that its member states would not compete directly against each other, but rather share industrial, financial and business sectors fairly between themselves. A quarter of a century later, it has become clear that the six member states have, in many areas, paid little more than lip service to a concept designed to ensure that the Gulf states complemented each other. It is still politically correct to say that any business initiative will not challenge those already offered elsewhere in the Gulf, but the reality is that the countries are competing energetically against each other.
From time to time, the more sanguine ministers in the region, such as Qatar's finance and economy minister Youssef Hussain Kamal, are prepared to state that this is the case. And this is no more evident than in the banking sector, where five of the six countries (the exception being Oman) are vying with each other for the title of 'regional financial capital'. Regulators, judges and financiers, with experience of Western debt and equity markets, are being hired by the dozen across the Gulf, and the world's investment banks are being offered ever more attractive packages to choose one centre ahead of the others.
Bahrain was the first to see the potential, setting up a highly successful offshore financial centre in the late 1970s, which attracted the world's leading banks, eager to get a share of the petrodollar recycling business. It is respected for a regulatory system that is both robust and flexible, but it now faces challenges from Dubai and Qatar, which have both emphasised their decision to set up a legal system based on Western standards. Saudi Arabia too has modernised its regulatory system and opened up its markets, while Kuwait has announced that it also has ambitions to be the region's financial capital.