GCC: Special report - The Gulf's global stars
The region's reliance on oil to produce world-class companies is changing, as other sectors begin to compete.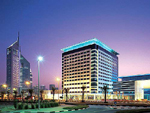 As the Gulf Cooperation Council (GCC) grows in size and influence, more companies from the region are making their way on to the world stage. Unsurprisingly, historical exporters such as oil and petrochemical companies have led the way, but the GCC's long-standing reliance on hydrocarbons has left it vulnerable to fluctuations in the market, creating a need for diversification. The appearance in recent years of increasing numbers of firms from other sectors, including banks, airlines, property companies, construction firms and events organisers, represents the early stages of a long-term trend. The two companies below show the GCC at its most traditional and its most innovative.
SABIC
In September, Saudi Basic Industries Corporation (Sabic) announced the acquisition, for $700 million, of Huntsman Petrochemicals (UK), the European business of Texas-based chemical manufacturer Huntsman Corporation.