GCC: Special report - Kuwait's tug-of-war
An ideological struggle is taking place, as the country looks for foreign investment and alternative sources of income.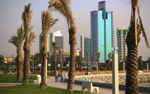 A tiny country, squeezed between the two giants of Saudi Arabia and Iraq, Kuwait was just a stretch of desert until oil was discovered in 1938. It has not looked back. It sits on about 10% of the world's oil reserves and, thanks to its hydrocarbons, has accumulated vast wealth, which has provided for a generous welfare system and a substantial investment network abroad.
As a result of this endless cash supply, Kuwait has been slow in diversifying its economy. Oil revenues account for nearly half the country's GDP and 90%-95% of exports. Although the country channels about 10% of its oil revenues into the 'Future Generations Fund' for the day when oil income runs out, Rochdi Younsi, analyst at Eurasia Group, says that the Al-Sabah ruling family, like other rulers in the Gulf, has been half-hearted in its efforts to find alternative sources of income.
With approximately 65% of the population under the age of 25 and with about 90% of employees in the private sector currently non-Kuwaiti citizens, creating jobs for young Kuwaitis is a major objective of the government. The country has started a programme to privatise state-owned businesses outside the oil sector in the hope of attracting foreign investment, but privatisation is complicated by the need to protect the jobs of Kuwaiti citizens, most of whom are employed by the state.
Omar Abdallah, head of Middle East and North Africa capital markets at National Bank of Kuwait, talks of an ideological "tug of war". Parliament's priority is to maintain Kuwaiti interests and privileges - foreigners, who make up more than half the country's 2.3 million population, are not allowed to own businesses - but the government is trying to curtail the extent of its welfare system and is keen to work on post-oil era opportunities.
As a result, Kuwait has started promoting its finance sector; real estate and retail are also on the agenda, and luxury brands, hoping to tap into petrodollars and duty-free zones, are being heavily pushed. These non-oil sectors are growing at 6%-7% a year - a good performance, but still a drop in the ocean compared with hydrocarbons.
However, the door has been opened: in March 2001, the Foreign Direct Investment Act was passed, aimed at promoting foreign investment. The Act eased restrictions on foreign banks and abolished the requirement for foreign companies to have a Kuwaiti partner or sponsor. The government is also making another attempt to enact legislation to facilitate foreign investment in the upstream oil sector as part of its Project Kuwait initiative to boost production capacity.
This is a $7 billion, 25-year programme to increase oil production, in particular the northern oil fields, with the help of foreign companies. At its peak, it could boost Kuwait's oil production to 4 million barrels a day. But the project has been repeatedly delayed by parliament's refusal to approve any law that would allow Kuwait's wealth to be shared, and is an example of the gridlock that has hampered many of the country's efforts to move forward.
Abdallah is pessimistic about the potential for structural changes to Kuwait's economy. "It is not politically feasible," he says, "because structural reforms will inevitably lead to foreign business ownership and the removal of government employment guarantees for citizens."