Gear & Gizmos: Your smart travel kit
Got a business trip planned? Arrive refreshed with these accessories for a stress-free journey.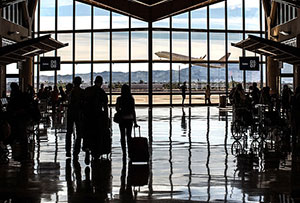 TEMPUR SLEEP MASK
£24.99
'Don't worry, I'll sleep on the flight.' Fateful words, as anyone who's crossed the Atlantic swine-class for a career-defining morning meeting will tell you. Thankfully, there are ways of blocking the world out, even at 40,000 feet. Snuff out every last glimmer of light and sleep like a baby with this supersoft TEMPUR eye mask that moulds to the contours of your face. Choose your travelling companions wisely though, if you want to avoid accusations of preciousness.
Rating: 3/3
---

YALA DREAMSACK
£40.80
You've finally arrived at your destination, only to discover your 'luxury penthouse' is in fact a grotty hostel - and these are the only digs in town. It's at this point you realise you're never too old for a sleeping bag. Why not pack this classy, low-bulk alternative instead? Slip into DreamSack's silken cocoon for a spot of luxury wherever you sleep. Beware though: even the softest sheets won't make up for a lumpy mattress.