Geithner rakes in $400,000 for speaking gigs
The former boss of the US Treasury, Tim Geithner is now one of the hottest names in after-dinner speaking, pulling in almost half-a-million dollars for just three appearances.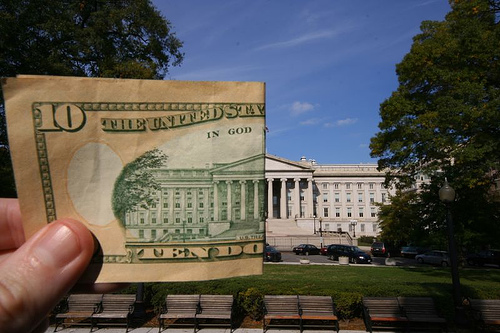 You'd think the major money for the after-dinner speaking circuit would be reserved for the world's foremost national leaders. Big names in the last decade have included former UK premier Tony Blair, and ex-US president Bill Clinton. Joining their ranks is the former US Treasury Secretary, who has raked in $400,000 for just three speaking engagements.
His most recent such gig, a speech at a conference for Deutsche Bank in June, earned Geithner somewhere in the region of $200,000. No doubt George Osborne and Danny Alexander – the closest UK equivalents to Geithner's former position - have got their ears pricked at a figure like that. If things go awry at the next election, it's good to have a plan B. We have a feeling that British ex-finance ministers won't command such high figures, however. Maybe a novelty lecture at a London university will be on the cards, though…
It could be the start of something big for Geithner, considering Clinton and Blair have both earned many millions of pounds for speaking at private events and lectures since they left office. Bear in mind that the UK prime minister only earns £142,500 per year, and the US president earns about $400,000 (although he also gets a much bigger White House, and an entertainment budget, too). So it's a seriously appealing career path for former politicians – if they can get the work.