Gem of Tanzania loses its lustre for builder
An £11m ruby cited by a builder as its biggest asset turns out to be worth about £100. Hmm...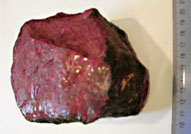 Wrekin Construction, a builder based in Shropshire, had a slightly unusual balance sheet: its biggest asset was a massive uncut purple ruby, known as the Gem of Tanzania, which was supposedly worth £11m. However, the firm is currently going down the tubes, and when administrators tried to flog the stone to raise some money for creditors, it turned out the gem had been somewhat over-valued. After all the big gem dealers turned their noses up at it, it's now for sale in a magazine aimed at crystal healing advocates – and some experts reckon it might garner a measly £100. Call us cynical, but we can't help feeling something dodgy was going on there…
You might well wonder why a Shropshire-based builder has a massive uncut ruby in the first place, as opposed to land and houses and stuff. Well, apparently someone called David Unwin used the gem to finance a short-lived rescue of the loss-making firm back in 2007. Somewhat dubiously, Wrekin apparently used this £11m valuation to issue preference shares and transform the state of its balance sheet; according to trade mag Contract Journal, £8m of liabilities became £6bn of assets in the space of just six months, which presumably made it easier for the company to trade and borrow. And as the company (which was once a £100m business) collapsed in the recession, the gem was soon the most valuable asset on the books.
Unwin supposedly had a couple of valuation documents – but according to the FT, it changed hands for about £13,000 in 2002, and was valued later at £300,000. So where this £11m valuation came from we have no idea (not that we know anything about gems, but it even looks rubbish). One dealer told the Times it was 'utterly bonkers', suggesting a low-grade ruby of that type would be worth nearer £100. In other words, it might not even be worth the cost of the advert the administrators have placed in Rock 'n' Gem magazine (a fascinating-sounding quarterly aimed at, inter alia, crystal healers - maybe Fergie will be interested?).