Gender pay gap gets even bigger
The pay gap between genders is getting bigger - even at senior level. Male directors are now getting paid 22% more than female directors, according to a new study by the Institute of Directors. At a time when the discrimination laws have never been tighter, how can this still be happening?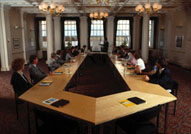 The IoD found that the situation has worsened since last year, when the gap stood at 19%. In some areas, notably the voluntary and service sectors, the gap was as high as 26%. And the average gap at director level is now well above the average across the workforce as a whole, which currently stands at 17%.
Not all sectors are equally blameworthy. As you'd expect, the public sector had the best record, with women directors paid 'just' 5% less. And the gap is narrowing in the financial services sector, which used to be one of the worst offenders – from 35% in 2005, it's now dropped to 9%. Unusual for this to be one of the more progressive sectors when it comes to gender equality…
Still, given the raft of laws that theoretically prevent this happening, the overall picture is pretty alarming. Particularly since the figures seem to indicate that the disparity is evident throughout women's careers. Research from the Higher Education Statistics Agency this week showed that women are being paid less than their male counterparts even in their first job after graduation.