George Osborne looks shifty over failed Co-op-Lloyds deal and borrowing figures
MPs have accused the Chancellor of withholding details of meetings between ministers and bankers, while Osborne looks likely to miss his borrowing targets.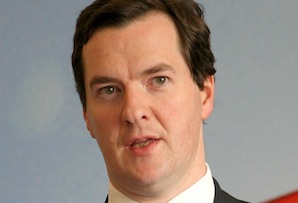 When deals go bad, it's not surprising those involved want to wash their hands of it. But in the case of George Osborne avoiding questions over ministers' involvement in the Co-op's failed bid to buy 632 branches of Lloyds (which are now the IPO-d TSB), it looks downright suspicious.

In a five-month series of tetchy letters between Osborne and Treasury Select Committee chairman Andrew Tyrie published yesterday, the chancellor is accused of holding back details of meetings between the government and bankers.

'It is not reasonable to expect the committee to wait indefinitely for the information,' Tyrie, a Conservative MP wrote in a 23 July letter, according to City AM. 'It will be more difficult for the committee to reach a firm conclusion on this without a more detailed response from the Treasury.'
'For these reasons the committee requests that you reconsider your position and release to the committee fuller information about the frequency and content of these contacts than you have supplied so far.'
The rather large question mark is over whether the government pressured Lloyds to sell to Co-op instead of NBNK Investments, which was run by former Lloyds of London chair Lord Levene, who claimed his bid wasn't considered fairly.

Osborne admitted ministers met with the regulator, Lloyds and the Co-op, whose failed bid catalysed the unveiling of a litany of disasters at the mega-mutual. But he said 'the Treasury did not apply undue political pressure' and claimed ongoing probes meant he couldn't give out any more information (how convenient...).

'The Treasury had a key interest in the Verde transaction... However, as I hope I have made clear, decisions about whether and how to proceed were commercial matters for the parties to the transaction,' he wrote in an August letter.

'I understand your primary concern is to explore the assertions made by Lord Levene in his evidence to the committee... The regulator had significant concerns about the viability of the NBNK bid,' the Chancellor concluded.
Meanwhile, figures out today showed the government borrowed £800m in July. That was half last year, but debt for the year is currently £37bn compared to £35.2bn 12 months ago. Osborne will need to reduce borrowing by around £10bn if he wants to meet his target of turning a surplus by 2018-19, which is currently looking like a very distant prospect.

The relative toothlessness of parliamentary committees (no powers to demand documents or supoena witnesses like in the US) means Osborne will probably be able to hang firmly onto whatever details are clamped so firmly in his grasp. But the fallout from the disastrous deal-that-never-was continues, and while Osborne shies away from coming cleaner - and misses his borrowing targets - it doesn't look good for the government.