George Osborne: the man, the myth, the 'transformer'
A Brazilian ad mogul has written a breathless column about his encounter with the chancellor, 'a playmaker... with strong opinions'.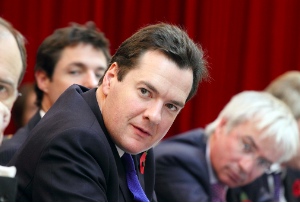 Either someone's playing an elaborate joke on us, or Brazil's biggest advertising executive really has come over all dewy-eyed about… George Osborne. Nizo Guanaes, the man behind Brazil's largest ad firm, ABC, has penned a column for local rag Folha de S. Paulo describing the British chancellor as a 'transformer'.

The column - which, even by celebrity journalism standards, is pretty breathless (it stops short of describing Osborne's outfit, but only just) - chronicles a magical evening Guanaes spent with Osborne at Davos.

Apparently the ad mogul had just been seated 'on a dining table next to Sir Richard Branson and in front of extraordinarily interesting and charismatic finance minister of Nigeria, Dr. Ngozi Okonjo-Iweala' when 'behold… a skinny young guy with rosy cheeks… a playmaker who is in debate with strong opinions'.

It goes on: 'the name of the illustrious unknown… was the Honourable George Osborne, 'Chancellor of the Exchequer', or the finance minister of the United Kingdom.'

Now obviously, Google Translate can do funny things to language, but there are certain words we can't ignore. To be fair, Osborne has been credited with sticking doggedly to his austerity programme, even when the experts (mainly the IMF) were telling him to drop it - and he's now reaping the rewards. But 'illustrious'? That seems a bit much...

Unfortunately, despite his enthusiasm, Guanaes' praise backfires slightly when he points out that 'he is minister of finance, but he did not study economics. He studied history. And was appointed commander of the British economy at 38 years old'.

'In the beginning he did not think what he was doing would work,' adds Guanaes, which gives Osborne more of an air of 'accidental hero' than 'economic superman'. 'And that's where the story interests me. The world needs leaders who know how to communicate what is difficult and unpopular, but necessary.'

Also in the piece is a description of how Osborne dropped the name Gideon.

'George Osborne [has been] interesting since childhood,' he says.

'Born into the Anglo-Irish aristocracy, he started life with the name Gideon, but at age 13, in a small act of defiance, he went to his mother and said, "I do not like the name Gideon and want to change." She said: "I do not like the name Gideon [either]".'

'A 13 year-old boy who changed his own name is certainly a transformer, and the man needs them desperately' finishes Guanaes.

We'll never look at Osborne in the same way again...