George Osborne has put the UK's Eurostar stake up for sale
The chancellor wants to sell the Government's 40% stake in the Channel Tunnel train for £300m.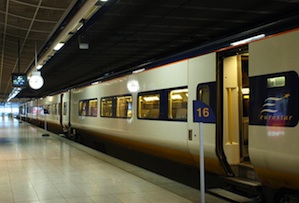 George Osborne kickstarted privatisation of the Government's 40% stake in the Eurostar today, a move expected to raise £300m. The plans were intially announced in last year's Autumn Statement, as part of a series of privatisations which it is hoped will raise £20bn by 2020.

'I am determined that we go on making the decisions to reform the British economy and tackle our debts,' he said. 'So we will proceed with the potential sale of the UK's shareholding in Eurostar today.'
Every little helps but MT wonders if £300m might be a drop in the ocean when the UK is faced with a national debt approaching £1.4tn. The rail operator has enjoyed strong performance of late, generating operating profits of £54m last year and paying out dividends of £19m. It employs 1600 staff and last year carried 10.1 million passengers and turned over £882m. It is 55% owned by France's state railway operator SNCF, which has first dibs on snapping up the stake, although is not thought to be planning to do so.
Osborne will be hoping to avoid a repeat of the much-panned Royal Mail sell-off, which was accused of short-changing the taxpayer. Labour's shadow transport secretary, Mary Creagh, said that the National Audit Office should carry out an immediate enquiry into the Eurostar sale.

'After the staggering incompetence of the Royal Mail sale fiasco, which lost taxpayers a billion pounds, people will worry that this is yet another rushed and undervalued sell-off,' she said.

'City adviser UBS made millions from Royal Mail and is advising on the Eurostar sale. Lord Myners is still conducting his review into government privatisations after Royal Mail, and ministers should await his report before any sale begins.'

The Government also faces a fight from the unions. In a typically exasperated statement, the RMT's general secretary Mick Cash described the move as a 'gross act of betrayal'.

'This sell off is just a short-sighted act of industrial vandalism based on a bankrupt pro-privatisation ideology. RMT will fight this tooth and nail,' he said. Better prepare for your romantic weekend in Paris to be ruined by strike action...